People analytics is a data-driven approach to managing people at work. Those working in people analytics strive to bring data and sophisticated analysis to bear on people-related issues, such as recruiting, performance evaluation, leadership, hiring and promotion, job and team design, and compensation.
The second People Analytics Conference will be on April 10-11, 2015 at Ritz-Carlton Philadelphia!
---
Academia and business meet each other. Speakers and panelists from academia and from companies pioneering People Analytics. Speakers at the first People Analytics Conference in spring 2014 included:
Laszlo Bock
Senior Vice President of People Operations at Google Inc. Pioneered the Big Data approach to Google's hiring and HR management decisions

Howie Roseman
General Manager of Philadelphia Eagles and the youngest GM in the league. At the forefront of the analytics movement in sports

Edith Cooper
Global Head of Human Capital Management at Goldman Sachs responsible for the development, well-being, and promotion of 33,000 employees
Learn more about speakers at People Analytics Conference
---
Case competition among business schools
Teams cracked a real-world People Analytics case!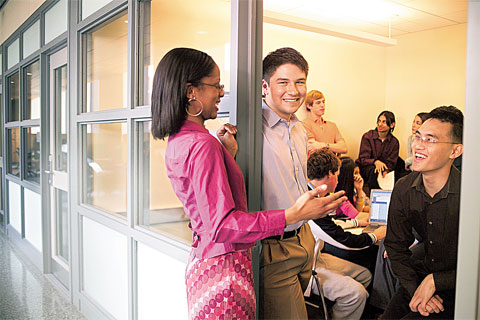 Teach for America was the Partner for the Case Competition!
Network with cutting-edge practitioners
Lunch and cocktails will be provided!
---
Sponsors
If you would like to be a sponsor at People Analytics Conference, please contact us.